Checking & Debit Options
Standard Checking Account
No monthly service fee
Dividends are paid monthly
No minimum deposit required to open
FREE Debit Card - When member opens checking account
FREE online access
FREE Bill Pay
New Beginning Checking Account
A New Beginning Checking Account eliminates the inconvenience of not having a checking account and/or being forced to use fee-intensive alternatives.
$10.00 monthly service fee; charged at the end of each month
Dividends are paid monthly
No minimum deposit required to open
Direct deposit is required - If available
FREE Debit Card - When member opens checking account
FREE online access
FREE Bill Pay
Teen Checking Account
Start your young adult down a successful financial path. With a parental co-owner, your student can open their first checking account at age 13 and receive an ATM/Debit card. It's Me 24-7 Home Banking & Mobile Banking allows the parent to view purchases and track spending. It also allows for transfers to/from your student's online account. It also empowers your young adult to always have access to their money. Let's begin to teach your young adult responsible budgeting and spending habits at an early age!Parent is required to be on account
Parent/legal guardian co-owner required to open account
Eligible ages are 13-17
No monthly service fee
Dividends are paid monthly
No minimum deposit required to open
FREE Debit Card
FREE online access
ATM/Debit Cards
Debit cards are available with all checking accounts and earn Scorecard Reward points.
All signature based debit card purchases receive:
1 Scorecard bonus point for every $4 spent.
Points can be redeemed for travel, gifts or cash.
POS/Pin based transactions not included for Scorecard reward points.
INSTANT ISSUE CARDS
Choose from any of the designs below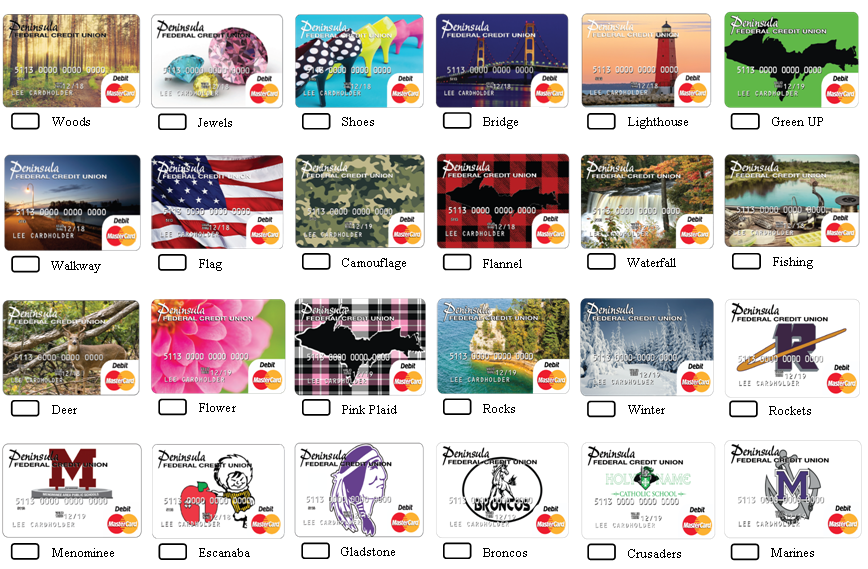 Traveling?
If you will be traveling, please contact the Accounting Department to notify them of this. Be sure to have the exact city you will be traveling to, your departure and arrival dates, your transportation avenue (plane, car, etc.), which card(s) you will be using, and a phone number to reach you at while you are away. Doing so will prevent your account from being locked because of a Falcon (possible fraud) alert. Our Accounting Department can be reached at 906-786-2732.
LOST OR STOLEN DEBIT CARDS 1-888-241-2510
Go to main navigation